Note: Until the author is able to trace an authorised history of 1417 Flight, the following extract, taken from the unit's F540, covers the period when it flew Hunters in the Middle East.
A brief resume of 1417 (FR) Flight operations
1 May 1963 to 7 September 1967
Flt Lt David Bagshaw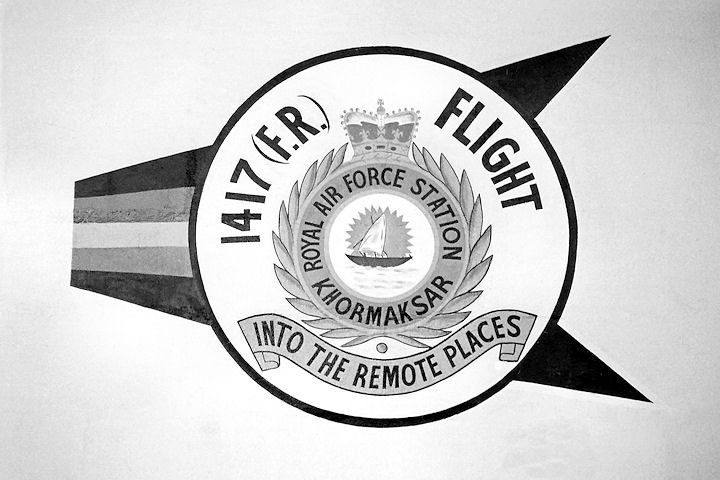 Number 1417 Flight was reformed at Royal Air Force Khormaksar on 1 May 1963 from qualified service personnel of No. 8 Squadron and disbanded on 8 September 1967; the full circle was turned when its personnel and aircraft returned to No. 8 Squadron to again become its Fighter reconnaissance element. During this period of four years and five months, a total of nineteen pilots served on the Flight and between them flew 765 operational sorties. The scope of these operations took in the Middle East theatre in its entirety, supporting land, sea and air forces operating in South Arabia, the feudal States of Muscat Oman, and the Persian Gulf .
The peak intensity of flying done by the Flight occurred during the Radfan campaign between May and July 1964, when a total of 205 sorties were flown. During the month of June, the greatest monthly total of operations was recorded when pilots of 1417 Flight flew 63 operational sorties.
A large proportion of the Flight's activity and energy during its first three years of existence was devoted to Operation Ranji, a thrice weekly reconnaissance of the South Arabian coastline in varying profiles to locate and photograph shipping, mainly the common dhow, to detect and discourage the illegal supply of guns and ammunition to dissident tribesmen in the South Arabian Federation.
Operation Thesiger, which took place in August and September 1965, and again in March 1966, required pilots and aircraft of 1417 Flight to be detached to Salalah and Masirah respectively. Here they operated in support of the Sultan of Oman, ranging far into the wastes of the Empty Quarter, once more on the lookout for dissident tribesmen.
Although these 'omnibus' operations were perhaps the highlights of the operational flying carried out by the Flight, they do not overshadow the usual day-to-day tasks which required its pilots to fly to targets located far and wide throughout South Arabia. These visual and photographic 'recces' varied in scope from location and reconnaissance of tiny, pin-point targets, such as a solitary small house, to the production of photographic 'line-overlaps' covering an area of perhaps four or five miles along a wadi.
Inevitably, the 'reconnaissance' aspect of the Fighter Reconnaissance role was predominant, but that does not mean that its 'fighter' counterpart was completely ignored. On more than one occasion, 1417 Flight pilots used the 30mm cannon of their FR.Mk.10 aircraft in anger against a target in the course of an operational sortie, and during training sorties most pilots achieved above average air to ground scores.
When an army commander 'in the field' requested photographic cover of a certain target or area, 1417 Flight ensured he received the photographic prints with a minimum of delay by actually dropping them to him. The technique evolved was to place the prints in a box in a weighted sack which was then tied to a small parachute. The 'assembly', was carefully placed in the flaps of a Hunter which then departed for the 'dropping zone'. The pilot dropped the prints by lowering his flaps at the appropriate time; the parachute deployed and the prints were in the hands of the 'user' in a matter of seconds. The nadir of this particular technique was reached one day early in 1967 when Habilayn, site of HQ Area West, was decorated with a rain of some 300 10"x10" prints confetti fashion when the sack burst. Fortunately, the prints had all been suitably annotated and the situation was retrieved with no great difficulty.
In order that the Flight's operational tasks could be carried out, each new pilot underwent an intense period of pre-operational theatre training involving some forty sorties culminating in an intensive period of air to ground firing practice. Despite the extremely varied flying backgrounds of these pilots – they ranged from very experienced, multi-tour, Hunter pilots to 'creamed-off' QFIs on their first operational tour – a very high overall standard of professional ability was achieved. The maintenance of this standard was ensured by the many post-operational Tactical FR training sorties flown by each pilot over and above those devoted to operational tasks.
A continuing commitment which exercise the Flight's expertise was the production of publicity pictures of many and varied events. The majority of sorties flown provided air-to-air coverage of formations of the various types of aircraft based in the Middle East. The culmination of these efforts was a photograph of a combined flagwave by 55 Royal Navy and RAF fighters in May 1967 when HM aircraft carriers Victorious and Hermes dropped anchor off Aden at the same time. Other occasions recorded on film by 1417 Flight pilots were the many visits to Khormaksar and Strike Wing by VIPs; notable among these was an airborne tour of South Arabia by His Excellency The High Commissioner, Sir Humphrey Trevelyan, in a Hunter T.Mk.7. Photographs were taken at the more prominent points of interest by an accompanying Hunter FR.Mk.10 – both aircraft were piloted by members of the Flight. Perhaps the most shining example of photographic excellence coupled with flying skill when operating the aircraft to its limits occurred when, during the departure ceremony of the Brigade Commander, 24 Brigade at Little Aden, a 1417 Flight pilot succeeded in photographing a flypast of three AAC Beavers immediately following that of three 43 Squadron Hunters – no mean feat considering a speed differential of 350 knots!
Although 1417 (FR) Flight was one of the smallest flying units in the RAF, with an average strength of five officers, the length of service and ranks of its members – they were almost exclusively senior flight lieutenants – dictated that they perhaps received more secondary and extraneous duties. It was traditional on Strike Wing that one of its ex-QFIs assumed the duties of Wing QFI and usually of Command IRE as well. Most officers serving with 1417 Flight conducted at least one Board of Inquiry or Summary of Evidence during their tours, and the Flight was usually well represented on the Officers' Mess Committee. Another responsibility of a 1417 Flight pilot was the operational and administrative control of the personnel comprising the Strike Wing Photographic Section.
To serve with 1417 (FR) Flight was the good fortune of very few pilots and an achievement coveted by many. The role of Tactical Fighter Reconnaissance in South Arabia is extremely demanding of a pilot's professional knowledge and ability, and success on any sortie, be it operational or training, was always hard-won. The rugged and varied terrain never failed to impress, no matter how hardened one may have professed to be; 'the world's best low flying area' is no misnomer when applied to the South Arabian Federation. A tour in an operational theatre devoted to extremely useful, and always interesting and rewarding flying is the hallmark of any pilot's career, and is not without justification that nineteen fortunate officers are unanimous in stating that to have served with 1417 (FR) Flight is to have done 'the best flying job in the Royal Air Force'.