Cpl Peter Raby
As a Corporal Engine Fitter with 131 MU at Khormaksar from 1961 to 1963, Peter was part of a small team of airmen sent up to Bahrain soon after his arrival to undertake a special task.
"During 1961 the government of Iraq decided to rattle its sabres at Kuwait, so every available aircraft in Aden was sent up to Bahrain and Kuwait. An 84 Squadron Beverley, XM110, 84 Squadron had had a bomb placed on it whilst on the ground in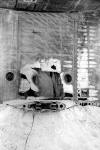 Bahrain
and the subsequent explosion wrote-off the aircraft. As part of a small team from 131 MU, I found myself in Bahrain, tasked to carry out spares recovery. The airfield was full and so was the accommodation. We were housed in a large single-storey building that had only a handful of electric lights, being nearly dark inside. Our beds were built up into two tiers with a camp bed between the occupants of the latter being in distinct danger of being trodden on in the night, or even worse.
To start the spares recovery, the aircraft had to be moved from near the main airfield buildings to the far side of the airfield. The position where the aircraft was to be parked was indicated by the station STO who stipulated that the nose wheel should be placed on a mark that he made in the sand with his foot and the aircraft be pointing in a specific direction. All went according to plan and we started to prepare the aircraft. Before we had gone very far, however, the STO informed us that the aircraft would have to be moved again as signals being sent from the station to Cyprus were bouncing off the airframe and being picked up elsewhere instead. The aircraft was duly moved and we eventually started work. Every morning we inspected the aircraft to identify parts that had been "liberated" by visiting UK Beverley squadrons and then waste an hour or two attempting to retrieve them. One morning the APU was found to be missing and was later discovered as a source of power for a home-made boat being constructed from drop tanks. We eventually completed the recovery and left the aircraft perched on a man-made sand bank where it was used by Parachute Regiment to practice jumping out of an aircraft."